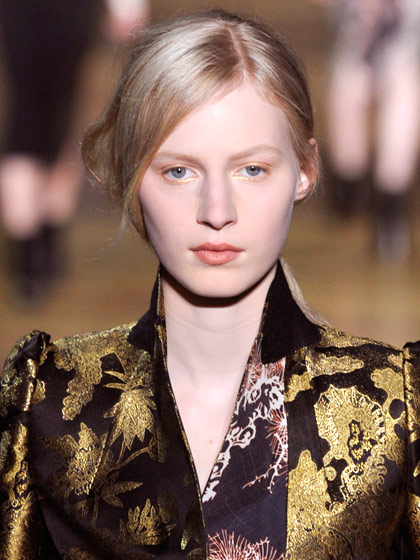 The value of gold is indeed going up, not only on the commodities market, but also on runways as makeup artists applied their Midas touch to complement the fall fashion collections. Sophia Panych of Allure magazine listed the ways of bringing this upcoming trend to the Average Jane and here are some of her tips in applying gilded makeup.
Pair gold shadow and liner – The simplest and easiest way to bring a radiant glow to your face is to pair gold eye shadow and liner (pictured), then put on a rosy beige lipstick, and finish it with curled lashes. Backstage at the Dries Van Noten fall fashion show, makeup artist Peter Philips dusted gold powder blush all over the eyelids and underneath the lashes before tracing gold eye liner along the inner rims.
Golden smoky eyes – The smoky eye look can be translated to different colors, this time in gold. At the BCBG Max Azria, the models wore sheer pink blush and pearly pink lips with their golden smoky eyes, giving it a sophisticated look. Makeup artist Charlotte Willer used three gold-based shades: white gold on the inner corners and on the lids, bronze in the crease and underneath the lash lines, and a neutral gold on the brow bones. After which, she blended them really well.
Gold accents – You can also do the traditional black smoky eye, but this time add a hint of shimmery gold shadow in the inner corners of each eye. At the Roberto Cavalli's fall show, Pat McGrath achieved this look by rimming the entire eyes with black liner, then dragging the black powder shadow across the lid before extending out to a point. Bronze powder topped the black, and finally the bright gold pigment was added at the inner corders. A more simpler version is to smudge black pencil and place gold powder in the inner corners.
Gold eyes and bold lips – Gold eye shadow can be pair with glossy red lips, which gives off a classic look while paired with a neutral wardrobe of whites, creams, and camels. This is what exactly happened at Hermès. Start with a hint of natural-colored blush along the cheekbones and into the hollows of your cheeks, dust gold powder shadow all over the eye lids, up over the crease, and underneath the lower lashes, topping it with several coats of black mascara. Finally, swipe bold red color on your lips, followed by a matching, non-shimmery lip gloss.
Source: Allure