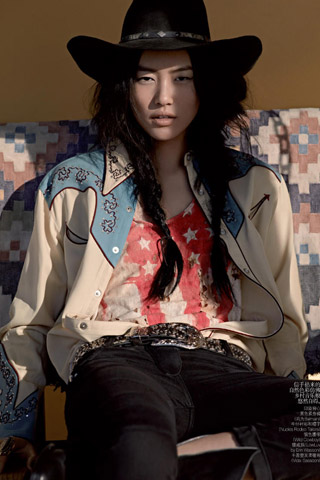 Fall fashion for 2011 is going to be a little more interesting as designers draw inspiration from the Wild West for their collections. Prairie coats and blanket pants are expected to become hot items, but you do not have to dress like a cow girl to become fashionably hip. Here are tips on how to get into the Western chic without looking like putting on a costume.
Look southwest – Proenza Schouler designers Jack McCollough and Lazaro Hernandez took reference from Southwestern aesthetics by hopping into the car and driving from Santa Fe to Yellowstone, where they able to grab a variety of Native American blankets along the way. These items became a key reference point for prints in their Fall 2011 collection. Take a single Native American article of clothing, work your way pairing it with your wardrobe, and top it with a few indigenous accessories.
Fringe, lots of fringe – Isabel Marant's Navajo-inspired collection is highlighted by miles and miles of fringe. Her white boots, for instance, is a "shoe-in" as autumn's It footwear.
Accessorize with authenticity – From bolo ties to conchos, Navajo hand-crafted jewelry are great additions to your fall ensemble, especially if you are not into wearing Western-inspired garb.
Source: Style.com, photo by Mark Segal and Vogue.com.cn