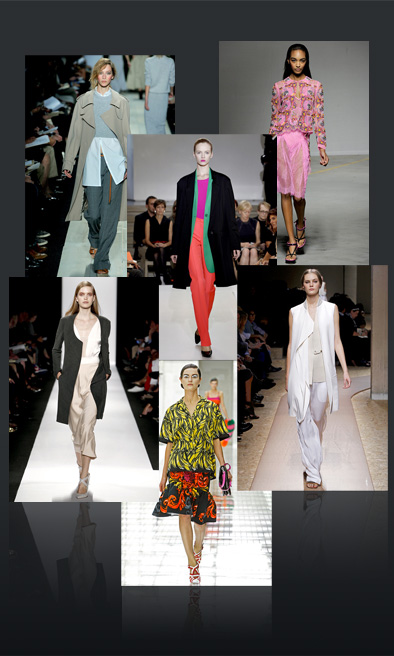 Even though snow does not seem to end, spring is inevitable. What is also inevitable are the fashion trends for the upcoming season and from the looks of it, they are bound to shake off the boredom and despair of living through harsh weather.
Bright, bright colors – Spring has always been a season of color, but this time even the most subdued and understated fashion designers will go all out. Haider Ackermann had teal and electric blue in his collection, while Aquilano.Rimondi combined different shades of citrus. Raf Simons, Mr. Understatement himself, picked colors like crayon for Jil Sander. Just a friendly tip: bright colors go best with blacks.
A diversity of lace – If you are in the mood for romance, lacey clothing is for you. Dolce & Gabbana provided a variety of needlepoint creations, as if they dug through a bride's closet. Meanwhile, Christopher Kane balanced his feminine silhouettes with splashes of neon. And Balenciaga channeled street punk chic as seen through its sequined shirts mashed with plasticized lace.
Go midi – Skirts and dresses up to mid-calf is so back, reminiscent to the days when women dressed like ladies. This is reflected in the collections from Calvin Klein, Narciso Rodriguez, Rodarte, and Roland Mouret. You can choose from an assortment of fits from second-skin tight Versus and Prabal Gurung to pleated and sheer from Hannah MacGibbon for Chloé.
A plethora of prints – And we do not mean your usual graphic prints. Whether it is about flowers, animal skins, and even fruit, the fashion houses have it. If you think they are too tame, then go for Mary Katrantzou's houses or Françoise Sagan quotes on Marco Zanini.
Go all-white – If the likes of Alexander Wang, known for his dark-colored collections, decided to go all-white for this collection, you know this trend is for real. It reflects a display of optimism for the new year. If white is not your thing, try adding few soft pastels on your ensemble or go pearl toned like Rick Owens.
The Yves standard – Want to go retro? Then go couture retro! Marc Jacobs bring out his inner YSL when he dished out gleeful and glamorous creations. Peasant blouses, safari jackets, and vibrant colors are the norm this season for the likes of Gucci, Emilio Pucci, Stefano Pilati.
Wear pants – Being too girly not your cup of tea? Don't worry, because tailored trousers were also focal point this season. High-waisted and relaxed legs are seen in Derek Lam's collection, while Michael Kors utilized masculine lines for the feminine clientele. And if you cannot decide whether to wear pants or dress, try putting dress over pants, as seen in Richard Chai Love.
Source: Style.com