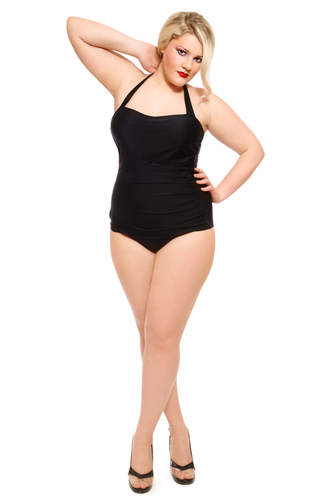 Summer is nearing, but it is never too late to get that perfect swimsuit that would complement your body type. Contrary to what other people and the media may say, anybody with any body can pull off a swimsuit as long as you know what style to wear. Glamour magazine comes up with wonderful summer style tips so you could look hot on your swimwear.
If you're busty and tall – String bikinis should be out of your closet because it does not provide ample support for your big babies. You do not want to dip in the sea and find your top drifting away. Swap it with a girly one-pice with cups. You can even go up a size to achieve the length coverage you need.
If you're plus-size – Avoid swimsuits that squish your curves the bad way. Go for a ruched vintage-inspired one-piece swimwear. It makes your body as desirable as a pin-up girl without having to shed 10 pounds.
If you're pear-shaped – Stay away from boy shorts because they accentuate your hips and thighs, as well as small bikini tops that emphasizes your unbalanced frame. Instead, put on a darker bottom half or a halter top one-piece to give focus on your upper body. You can even go for a V-neck top.
If you have no waist – Do not wear a tankini in an attempt to hide your tummy; it would just rise up on your every move. Try a paneled swimsuit since it creates shape, while the bust-enhancing details provides an hourglass-shaped figure.
If you're tall – Sporty lines would only make you even lankier. Go for a ruffled, floral-printed bikini that softens your athletic frame. Tops with horizontal pleats are also good options.
If you're busty and petite – Try on higher-cut bottoms and underwire tops with cup sizes in order to look taller while supporting your upper body. Think of it as shopping for swimsuits as if you are looking for a bra.
If you're pregnant – Although the easy escape for beach-bound pregnant women is to wrap their body around with a sarong, take the risk and show off your body with a halter-top one-piece with subtle overall patterns. Ask the shop for maternity-sized swimsuits.
If you have a long torso – A solid bandeau will never do you a good favor. Pick a striped top that boosts your bust and a wide-waisted bottom to add curves. You can also go for a bikini bottom with side ties or wild prints.
Source: Glamour