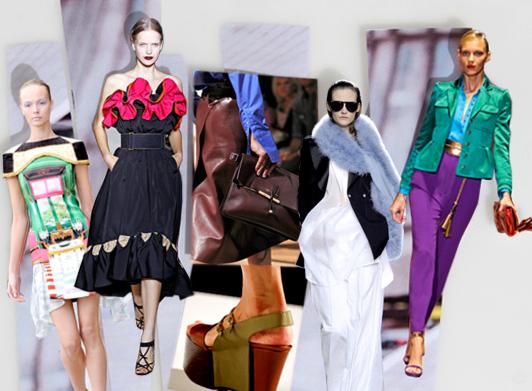 The past two years have been a witness to safe-looking collections for spring, but as the decade closes, the designers go scrambling to pull off what they think would be the "in" thing for the rest of the swinging 2010's. We may not know if these upcoming trends would stand the test of time, but at least we can say that they are daring enough to go with your outfit for spring 2011.
YSL influences – It looks like current designers, from Marc Jacobs to Jil Sanders, now take inspiration from iconic designers of yore such as Yves Saint Laurent. The use of bold colors, Beatnik influences, and glamorized versions of male clothing are expecting to fill the racks. The competition, however, does not scare Stefano Pilati, who currently leads the YSL brand.
White is the new camel – That neutral color is gone, thankfully, for now as white steps in as next year's base color (or non-color, however you view it). Going white means gearing for the minimalist look.
Wear out-of-the-box prints – We do not mean going back to the flower power of the 1960's, but putting on clothes that feature unusual prints. Prada has monkeys, while Stella McCartney has citrus fruits. If you want to go all-out, how about gambling on Mary Katrantzou dresses that have digital renderings of Arhitectural Digest interiors?
Below-the-knee hemlines – A little bit of conservatism is back on the runway and probably into the streets. The length may be challenging, but some designers like Narciso Rodriguez have come up with fresh collections that do not look matronly .
Fearless color combinations – Now is the right time to ignore compatible color combinations. Try going out of your way with an emerald blazer, turquoise button-down shirt, bronze python belt, and purple pants, all from Gucci.
Sheer wear without the shock – Lady Gaga attempted to innovate the fashion trend with the innerwear-as-outerwear look (which was a familiar image on Madonna), but it just would not cut with the growing conservative thinking. However, you can take a shot of it without receiving side glances by putting on lace dresses that look demure with just the right amount of skin showing off.
Platform wedges – Many trends for Sprint 2011 are influenced from the 1970s and what better way to finish your wardrobe with a pair of platform wedges?
Envelope bags – Clutches no longer do in this age of mobile technology. Invest on an oversize envelope clutch that can fit in your netbook or iPad.
Source: Style.com